The Lake is open to members and their guests only, every day from May  to September inclusive. There are also sessions in the winter months for winter swimming.
Senior members (18 and over) can bring a maximum of two guests to the Lake. Junior guests must demonstrate the ability to swim 50 metres by taking a swimming test at the Lake. Please note, for safety reasons we do not allow entry to the Lake by members of the general public unless by special arrangement
Membership
Waiting List Update May 2020   
After careful consideration we have decided that the waiting list will not be open this year 2020.
Membership is full and due to high demand the waiting list is closed and we will not be adding anyone to it.
We will review this again in 2021.
You may wish to check our web site periodically from April 2021 as we will advertise if and when the waiting list is re-opening and details on how to apply to join the list.
Triathlon, open water charity swimming event and channel swimming training sessions
If you are training for a swimming event we can offer sessions at the Lake for training. Please contact us  via the Contact page for further details.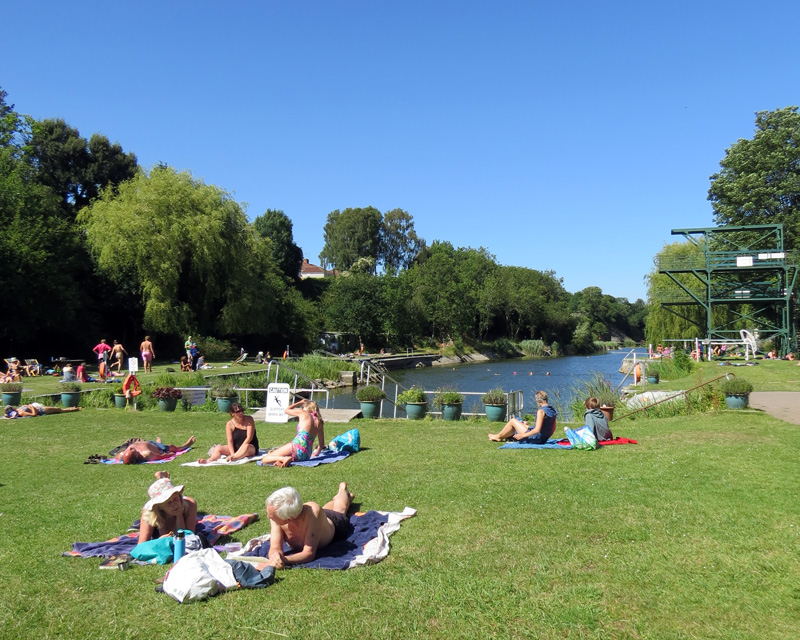 Sunny day at the Lake.             Photo: Holly Merritt-Webster
Evening Swim             Photo: Nick Townsend