The Lake: Henleaze Swimming Club's centenary book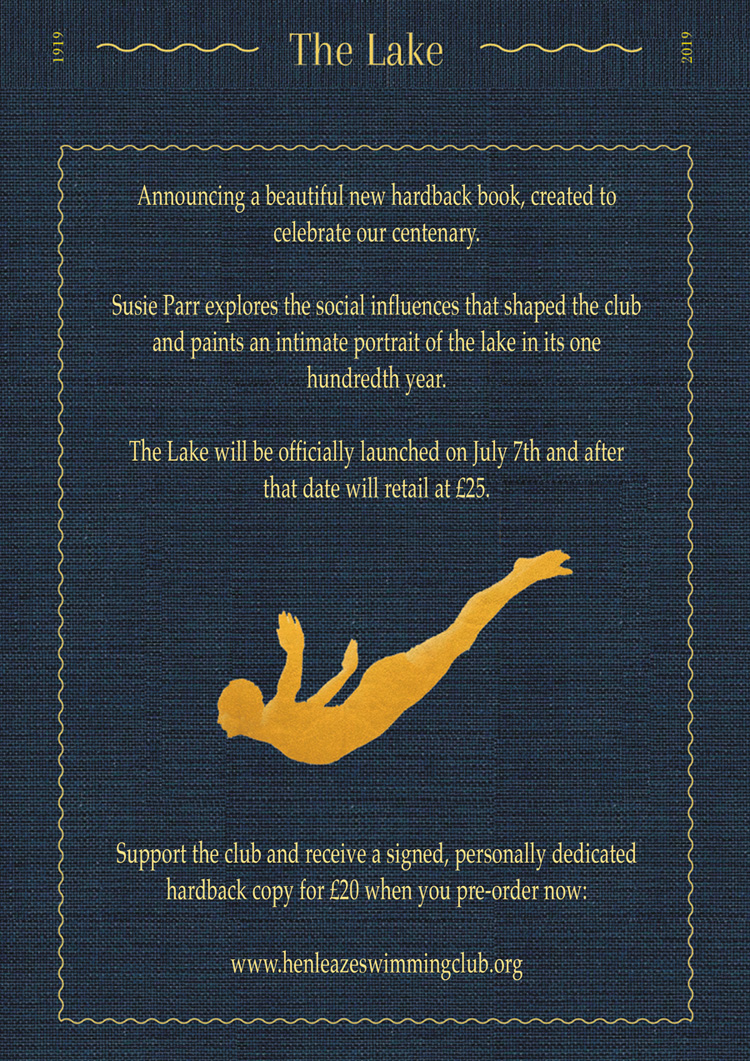 The Lake: Henleaze Swimming Club's centenary book
This year, Henleaze Swimming Club turns one hundred years old. To mark the occasion, the club is publishing a celebratory book documenting its history. As well as giving a detailed account of the club through the decades, The Lake features iconic photographs and images dating from 1919 right up to the present day.  In addition, the book showcases some of the extraordinary club artefacts such as publicity posters and the water-damaged early minute books.
Established in 1919 in a flooded limestone quarry, Henleaze Swimming Club was absolutely of its time. Sited in the middle of a newly developing, affluent suburb of Bristol, this open-air swimming club was considered progressive because it was open to women members from the start. The club was, in part, a response to the public appetite for relaxation and entertainment after the horrors and deprivations of the war years. Against a backdrop of industrial unrest and economic hardship, it encouraged sporting competition and put on events that attracted hundreds of spectators. It also promoted the practice of life-saving and the teaching of swimming. Having gone through many difficult patches in previous decades, the club is now thriving. Just a few miles from the city centre, the lake is a green oasis, enjoyed by swimmers, anglers and wildlife alike.
In The Lake, Susie Parr (author of the award-winning The Story of Swimming) explores the social influences that shaped this remarkable institution. She traces its struggles and successes decade by decade, relating these to the social and political context of the time. The book ends with an account of club activities and events in its one hundredth year; these include early morning swims, winter swimmers dipping in an ice hole, and swifts drinking at the lake. This final chapter also features photographs by club members and by acclaimed photographer (and non-swimmer) Martin Parr.
The Lake will be launched on Sunday 7h July, 2019, between 2pm-6pm in the club grounds. The launch will be accompanied by live music and a 1920s tea-party.
The book will retail for £25. However, club members who order before 7th July will only pay £20 for a signed copy, with a personalised dedication if required. Please make cheques to Henleaze Swimming Club
Please support the club by buying a copy of this beautiful, celebratory book.