Much of the running of the Club is done on a voluntary basis. This page describes how you can help the Club by getting involved
The Club is run by a voluntary 16 person management committee. The management committee meets once a month throughout the year. It deals with a wide ranges of issues inluding:
Members' concerns and issues
Health and safety
Environment and water quality
Staff management and Lake Operations
Grounds and building maintenance
Membership renewals and communication
Fish stock and health
Club finance
Constitution, Land and legal issues
Event organisation and wider usage.
Development of the Club
Club historic archives
Individual committee members generally take responsibility for one or more areas of the running of the Club. This means that a committee member does not just attend meetings but carries out crucial functions for the Club.
Committee members are elected at the Club's Annual General Meeting each year at the end of November. If you are a Club member and are interested in standing for the committee please speak to an existing committee member at the Lake or email us via the Contact page to express an interest.
There are always projects at the Lake that we cannot implements due to lack of funds. In the past some of these projects have been achieved because we have received a legacy from a member.  This is a great way to show your appreciation of Lake. See our Legacy  page for more information.
Much of the grounds maintenance and improvement is carried out by voluntary working parties in the spring and autumn. See the events page for details of working party dates. There are also ad-hoc working parties when there is something specific to do. If you would like to get involved email us via the Contact page.
Membership renewal processing is carried out by a voluntary team that meets at the Lake during February, March and April. Times and dates depend on the amount of renewals received so are arranged on an ad-hoc basis. It is quite a sociable activity with time for a cup of tea, biscuits and a chat. It is however very important to the Club in that the membership renewal process is a mammoth task and to do it with volunteers allows the Club to keep subscription rates as low as possible.  If you would like to get involved email us via the Contact page.
The Club often needs assistance of a specialist nature. Some past examples of this are:
Help setting up this web site
Audit the Club's accounts each year
Legal Advice
Architectural Advice
Charity Fundraising Advice
If you have specialist knowledge and would be prepared to advise or assist the Club please contact us  via the Contact page.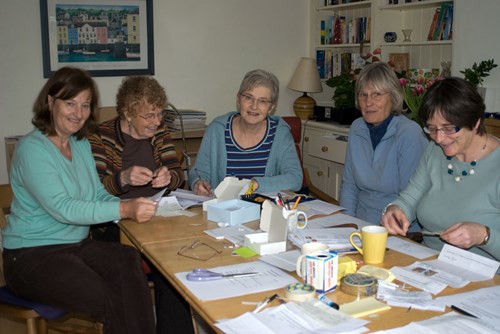 Membership team meeting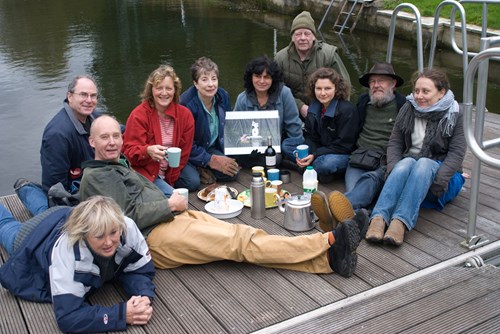 Tea and cakes after a working party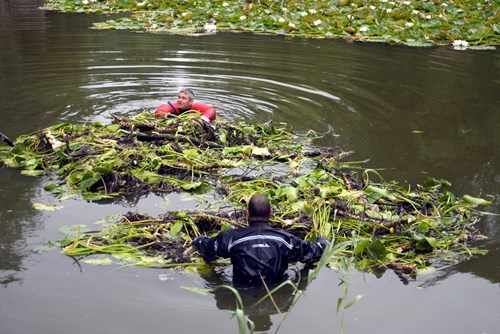 Clearing water lilies from the north end